1. AGRAS MG-1 UAV/UAS Agricultural Drone
from £14,995.00 GBP £12,995.00
The DJI AGRAS MG-1S UAV/UAS octocopter drone is specially designed for providing a superior, cutting-edge UAV/UAS agricultural solution. In addition to integrating some of DJI's leading aerial UAV/UAS drone technologies within a fully integrated agricultural UAV/UAS drone, notably its state-of-the-art A3 UAV/UAD drone flight controller, as well as an advanced Radar Sensing System that enhances overall flight reliability of the AGRAS MG-1S agricultural drone, the AGRAS MG-1S agricultural drone also integrates a comprehensive yet user-friendly Agricultural Management Platform. Through these and other advanced technologies integrated in the AGRAS MG-1S octocopter drone, a user can pre-plan its flight operations to reflect agricultural needs, and can manage the AGRAS MG-1S flight trajectory and mission in real-time. A variety of leading DJI technologies also allow for high-precision, and technologically advanced means of monitoring the AGRAS MG-1S UAV/UAS's flight and operating status while performing agricultural missions. In sum, DJI's AGRAS MG-1S integrates the latest DJI drone innovations, and cutting-edge drone technology capable of offering a highly comprehensive solutions for agricultural care. 
2. AVT-100 Underwater Submersible ROV Drone
CAD $44,887.50 CAD $34,887.99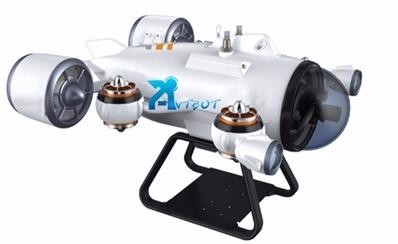 Smart underwater submersible ROV drone
3-Axis movement
Wi-Fi connectivity and control
Front camera protected by solid anti-collision glass
Suitable for commercial and industrial inspections
Applications include:
Aquaculture (cage culture observations)
Water quality monitoring
Hydropower station inspections
Ecological investigations
Pipeline inspections
Diving and underwater exploration
Maximum depth of approximately 75 meters
Maximum speed of approximately 3 knots
Two horizontal jet propellers, one vertical
Control via smartphone, table, or other peripheral
USB connectivity/compatibility
3. DJI Inspire 1 V 2.0 Commercial Industrial Drones w/ 4K UHD Camera, Lens, Gimbal
from US $3,350.99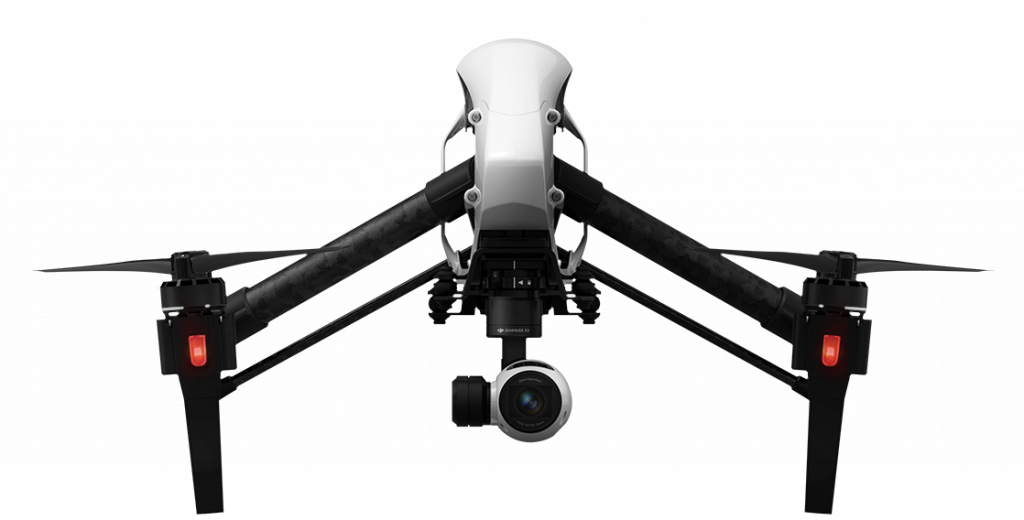 The Inspire 1 V 2.0 UAV/UAS professional quadcopter drone offers a user-friendly, easy-to-use, state-of-the-art, professional drone solution. The Inspire 1 V 2.0 is equipped with a superior, commercial-grade 4K UHD drone camera, as well as a state-of-the-art 3-axis image stabilizing gimbal for steady and unobstructed 360° aerial footage, making the Inspire 1 V 2.0 an ideal UAV/UAS solution for almost any commercial or industrial activity requiring professional, high-grade aerial photography or filming, including but not limited to: commercial or residential real estate showcasing; commercial film and television production; professional wedding photography; and media and journalism. The Inspire 1 V 2.0 by DJI incorporates powerful state-of-the-art UAV/UAS drone technology, with prolonged flight times and long control range, allowing it to adapt to a multitude of industrial settings, including but not limited to: law enforcement, construction, environmental monitoring, industrial inspections, and search and rescue. The Inspire 1 V 2.0 UAV/UAS drone is light yet highly durable. Gimbal, camera, and propellers, can easily be removed to facilitate transportation and travel. Advanced image transmission allows for real-time video transmission at distances of up to 5km. In sum, the Inspire 1 V 2.0 UAV/UAS is an ideal purchase if you're looking for a professional drone suitable for a wide range of commercial and industrial purposes.
4. EWG-E3V Fixed-Wing Hand-Launched Commercial-Industrial Drone
GBP £24,999.00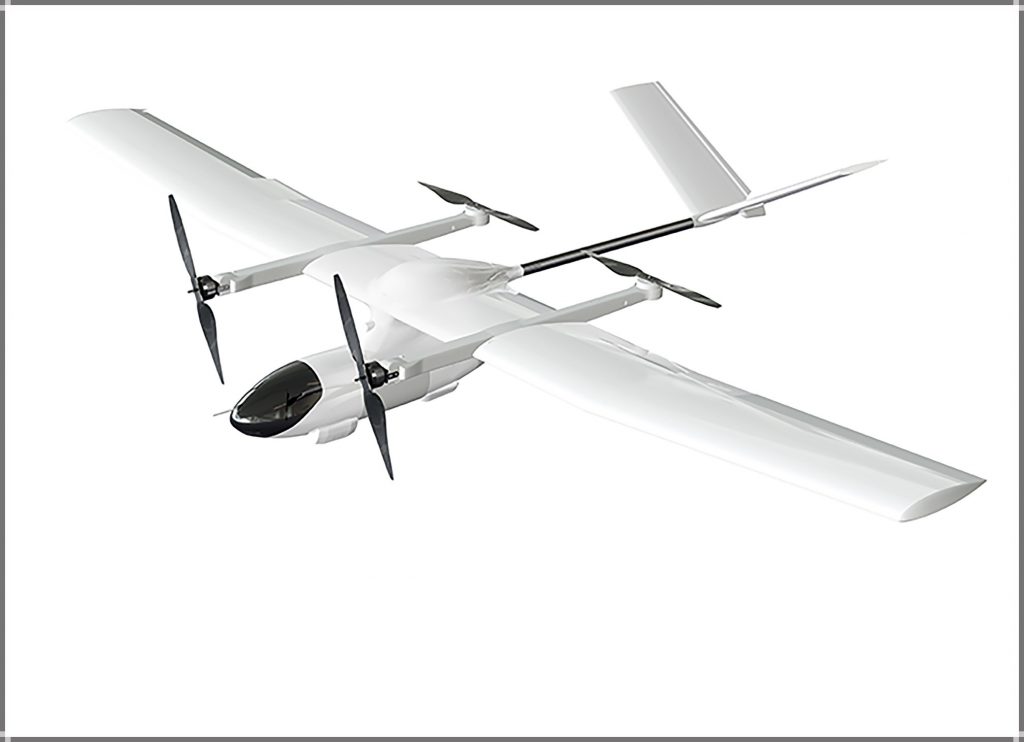 The EWG-E2/E3 by Ewatt incorporates a highly innovative and unique fixed-wing, hand-launched commercial-industrial drone. Among many other characteristics, the EWG-E2/E3 drone's user-friendly setup and ability to be deployed timeously and without the need to setup a launching system makes it particularly suitable for scenarios requiring fast emergency response times, as may be the case, for instance, with natural disaster relief efforts. Owing to the ability of fixed-winged drones to cover vaster areas, the EWG-E2/E3 is particularly well adapted for industrial drone missions such as mapping, GIS, agriculture, mining, environmental research, and the likes. While rotary systems are capable of providing millimetre-close inspections, fixed-wing drones like the EWG-E2/E3 are capable of inspecting, from a "bigger picture" aerial perspective, commercial/industrial sites and assets with centimetre-close precision. In addition to being compatible with a wide array of commercial/industrial-grade payload systems, the EWG-E2/E3 drone is capable of carrying multiple, first-class drone payload systems (e.g. Infrared and RGB) simultaneously.
5. M-200 UAV/UAS Commercial Industrial Drone
EUR 6,486.99 EUR 5,486.99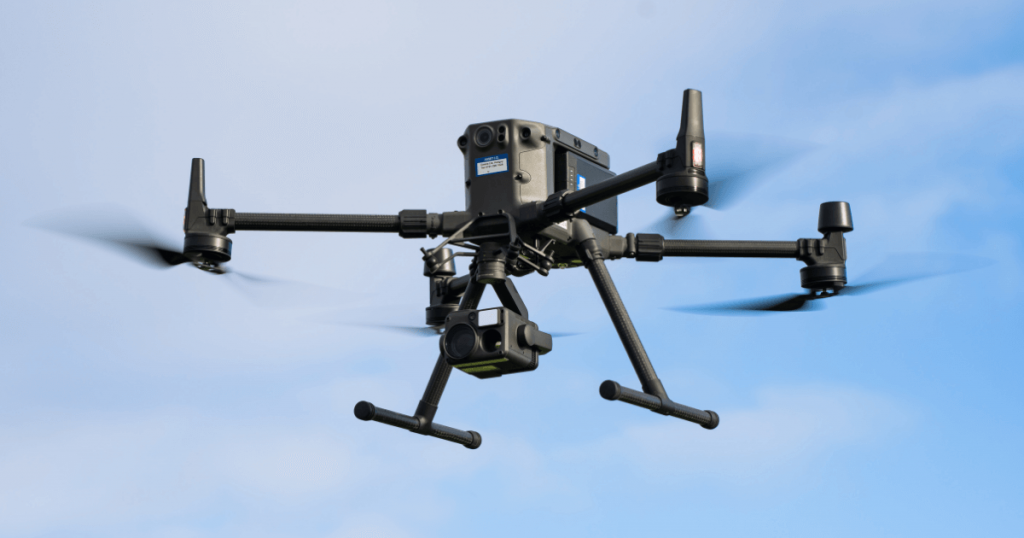 DJI's Matrice 200 offers a comprehensive, all-in-one innovative industrial and commercial UAV/UAS drone solution. Unique features include a self-heating dual smart battery system that allows the batteries to remain warm even in sub-zero temperatures. The fuselage of the DJI Matrice 200 UAV/UAS drone is fully weather and water proof, a feature which greatly enhances its deployment to a wide range of commercial and industrial applications. Another feature that enables the DJI Matrice 200 UAV/UAS drone to be deployed in a wide range of different commercial and industrial applications are its payload options and carrying capabilities. The DJI Matrice 200 is compatible with a wide range of DJI payloads, including: 5.2K ultra-high definition camera for cinematographic film production; thermal imaging cameras for firefighting and/or search and rescue operations; cameras for mapping and surveying; as well as cameras that are ideal for conducting industrial inspections, such as offshore oil rig inspections, wind mill turbine inspections, bridge inspections, as well as power line tower inspections. The DJI Matrice 200 UAV/UAS dual battery system also allows its user to choose between two battery solutions: the DJI Matrice 200 TB50 UAV/UAV drone battery, which is designed to enhance portability; or the DJI Matrice 200 TB55 UAV/UAS drone battery, which offers longer flight times while carrying greater payloads. In addition to these features, the Matrice 200 also integrates a number of cutting-edge features, such as 3 dimensional infrared obstacle avoidance sensors (front, top, bottom), intelligent flight modes that facilitate the pilot's ability to focus on mission objectives, as well as an innovative transforming UAV/UAS design that facilitates transportation.