Our first post offered a brief company overview of Skynex Global Drones, Ltd. Our second post examined the definition of drone, and our third post examined the meaning and understanding of "drones" in popular culture, and how Hollywood, for the most part, places drones in a negative spotlight by depicting them as autonomous military and intelligence killing machines. With the new year ringing in, our third post nominated the H520 hexacopter drone, a highly versatile commercial and industrial drone, as the best drone to look forward to in 2018. A follow-up on our third post, our fifth and last post offered a rare glimpse of how Steven Spielberg, through the movie "*Batteries Not Included", was able to depict drones as friendly subservient machines that can come to the aid of humans. This next post continues to build on the image of friendly drones, this time in the sports and entertainment industry. Like Spielberg's production, drones in the sports and entertainment industry are also contributing to redefining our meaning and understanding of drones, outside the military and intelligence apparatus.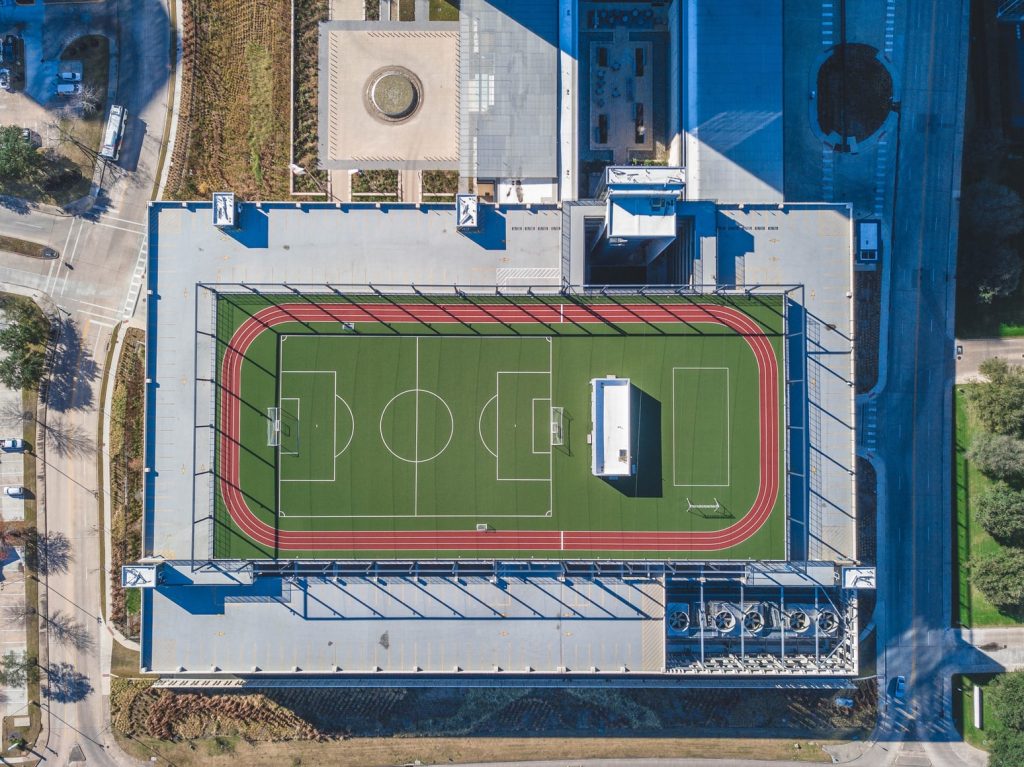 "Friendly Drones" & the Sports Industry"
Leaving aside Hollywood science fiction movies and documentaries a concrete real-life example of how drones are proving to offer value outside of the military and intelligence apparatus is drone racing. A fairly recent phenomenon, FPV ("First-Person-View") racing drones are changing people's lives for the better, are driving technological innovation forward through competition, and are bringing local, regional, national, and international communities closer together. Two major driving forces behind this emerging and increasingly popular sport are the Drone Racing League ("IDRL"), and the International Drone Racing League ("IDRL"). Their growing influence in the drone industry has acted as an important catalyst to local drone racing leagues all over the world. Whether this sport will continue to remain a reality, or a thing of a George Lucas science fiction movies like Star Wars, may be too early to determine with certainty. An overview of the major players in the drone racing arena is perhaps the best and only indicia worth telling.
The Drone Racing League ("DRL")
The Drone Racing League pioneered the sport of FPV ("First-Person-View") drone racing, an activity in which drone pilots, equipped with 3D augmented reality goggles that receive a live/real-time video stream directly from a small camera mounted on the nose of their drone, race their drones through three-dimensional obstacle courses at speeds that can reach up to 120 miles per hour. Lux Capital, an early investor in the DRL, describes the sport of drone racing as follows:
"[…] What is drone racing? A high speed competitive sport where skilled pilots fly quad-copter drones through three-dimensional courses at speeds up to 120mph. First-person-view goggles display a real-time video feed from the perspective of the drone. Drone Racing League custom-builds drones for speed, agility, and performance and hosts events at iconic locations around the world. […]" [1]
During a televised drone race, in addition to standard sports coverage, spectators are given occasional glimpses of what pilots are seeing through their 3D augmented reality goggles (first-person-view), as if the spectator was the pilot sitting inside the drone. This is unquestionably one of the most unique and distinguishing feature of the "sport of the future".
The American-based DRL was founded in 2015 by Nick Horbaczewski, and launched publicly with its first drone racing season in 2016. The idea of starting a drone racing league first occurred to Horbaczewski in 2015, after he witnessed his first drone race in a field behind a warehouse in Long Island, New York. 15 to 20 people were taking part in a drone race, each drone pilot having built their own racing drone. [2] Within a single year, authoritative commentators in the entertainment world were already referring to Horbaczewski's new, unique creature of FPV drone racing as a Star Wars-like pod race. An important catalyst to the DRL's quick launch and success was unquestionably its ability to secure early financing from major players. In addition to Allianz, one of the DRL's earliest sponsors, the tech start-up also secured financing from World Wrestling Entertainment, Sky, Liberty Media Corporation (owner of Formula 1 racing brand), and Lux Capital.[3]
As the term "First-Person-View (FPV) drone racing" indicates, drone racing is first and foremost a visual, image-rich form of entertainment. In a world propelled by image and video-rich social media platforms, such as YouTube, Facebook, Twitter, Pinterest, Instagram, and the likes, the sport of FPV drone racing is unquestionably well-aligned to succeed in a modern, interconnected, 21 st century digital economy.
The flip-side of a sport that that is primarily driven by live images and videos is the greater potential for amateur FPV drone racing enthusiasts posting videos and images of their drone racing skills to ascend to the professional ranks of the DRL. For its 2017 season, the DRL launched a drone racing video game competition using its very own Drone Racing Simulator .[4] Over the course of its virtual drone racing competition, over 100,000 amateur drone racing enthusiasts, incentivized by USD$75,000 in prize money, gathered online to clock-in their best and fastest FPV drone racing performance. Only 24 of the fastest and best drone racing pilots would move to the final Bud Light 2017 tryouts in New York City, where a single champion would be selected to participate in the DRL's 2017 drone racing season. In the end, it was Jacob Schneider from the state of Indiana, U.S., that would take home the big prize money, and move on to compete in the DRL's 2017 race. Other uniquely creative and innovative recruiting methods employed by the DRL include: word of mouth inside the professional drone racing community, as well as YouTube videos posted by amateur drone racing enthusiasts.
Another important and defining characteristic about the Drone Racing League is that it produces its own FPV racing drones in-house. Worded differently, each drone racing pilot taking part in a DRL race races the same drone. This unquestionably ensures that winning a drone race remains a matter of human skills and abilities. This is surprisingly different from the first drone race that was said to inspire DRL founded Nick Horbaczewski: "There were probably 15, 20 people there, the pilots had all made their own drones, some of them worked, some didn't … drones would fall out of the sky and they would be crashing". [5] For its 2017 season, the DRL developed the Racer3 (depicted below) a racing drone that was specifically design for speed, agility, competition, and perhaps more importantly to the sport of drone racing, entertainment. [6] The DRL's Racer3 features, among other things, proprietary internal range radios for live events and broadcasts; 209 LED lights for enhanced visibility and drone racing pilot identification; a crash-resistant polycarbonate shell; and 6" triblade propellers that offer enhanced agility and in-flight traction. [7] Perhaps the most impressive feature of the DRL's Racer3 is its ability of reaching 0 to 80 miles per hour in less than a second. [8] The Racer3 is also powered by a custom-designed five-cell battery that provides 1,800-milliamps and 7,000kg of static thrust. [9]
While its drone races may be strictly focused on human abilities, the drive to be at the forefront of drone racing and drone racing technology is also constantly propelling the DRL to create and innovate. More recently, for instance, the DRL developed the RacerX, which set a Guinness World Record title for reaching an astonishing average speed of 165.2MPH/265.87kmph, and the fastest one-way top speed of 179.78mph/289.32kmph. [10] As the DRL states, "the record-setting RacerX represents the culmination of years of technological innovation by the DRL Techops team". [11] As of the date of this writing, the DRL's RacerX is the fastest drone in the world. Surprisingly, the handmade RacerX uses only a few dozen parts, some of which were even 3D-printed TPU (thermoplastic polyurethane). The quadcopter drone design, which is surprisingly small in size, was careful to affix each piece so as to minimize drag. Critical to the success of the RacerX's world record are its four highly powerful motors. Unarguably, the DRL and the RacerX's world record have set into motion a race to be the world's fastest drone.
Aside from its technological breakthroughs in the drone racing industry, the Drone Racing League has and will continue to play an important and critical role in redefining the public's modern understanding and perception of "drones". From a brand new and futurist sport, to a new amateur hobby and social activity, to a dream and career avenue for younger amateur drone hobbyists aspiring to become professional drone racing pilots, to fun, exciting, and flashy flying machines that effectively develop acuity of mind and vision as well as intellectual and motor reflexes, the Drone Racing League, and the inherent public nature of the sport, is taking the word "drone" outside the negative spotlight of autonomous military killing machines shined upon by the Hollywood industry. Increasingly, drones are being seen for their true value, potential, and worth. With the multitude of different academic disciplines involved in understanding FPV racing, from physics, to computer science, technology, engineering, to mathematics, film, media, sports and journalism, and the likes, drones are also proving to be invaluable aids for learning, from primary school to PhD academia levels. The publicized nature of the DRL is also acting as an important catalyst to local drone racing leagues that are bringing communities closer together.
[1] Lux Capital, available online at: "http://www.luxcapital.com/companies/drone-racing-league/, last viewed on October 22, 2017.
[2]Hannah Roberts, "How an entrepreneur turned amateur drone racing into a pro sporting league" (February 11, 2017) available online at: http://uk.businessinsider.com/drone-racing-league-founder-nick-horbaczewski-2017-2, last viewed on October 22, 2017.
[3]Fitz Tepper, "Drone Racing League Raises a $20M Series B Ahead of its 2nd Season", available online at: https://techcrunch.com/2017/06/12/drone-racing-league-raises-a-20m-series-b-ahead-of-its-2nd-season/, last viewed on October 22, 2017.
[4]The Drone Racing League, " Video Game", available online at: https://thedroneracingleague.com/videogame/simulator-controllers/, last viewed on October 22, 2017.
[5]Business Insider, Tech Insider, Hannah Roberts, "How An Entrepreneur Turned Amateur Drone Racing Into a Pro Sport League", available online at: http://www.businessinsider.com/drone-racing-league-founder-nick-horbaczewski-2017-2, last viewed on October 23, 2017.